For House of Drennan founder Rebecca Bridges, renovating her 1970 Colonial-style home in Rock Hill, South Carolina was a real family affair: "The house was designed by architect Milton Sadler. Coincidentally, Mr. Sadler is the same architect who designed my husband's childhood home," says Drennan. To add another layer of kismet design, the builder she hired, Jeff Williamson of Southern Builders of York County, is the grandson of the home's original builder, Charles Okey, Jr.
What's more, Bridges and her husband had already been living in the house for ten years when they embarked on their renovation – suffice it to say, the entire team had a thorough understanding of the project. "From the moment we visited this house, my husband and I felt at home," says Bridges. "The traditional layout, red brick exterior and classic elements reminded us of the homes we grew up in." It also helped that "the bones were great". When they first moved in ten years ago, Bridges and her husband undertook minor cosmetic changes, updating the paint and fixtures. But after a decade in space and the addition of three young children, it was time for a bigger overhaul. The goal? Preserve the soul of the house while updating it for the family lifestyle (goodbye dark and cramped rooms, hello storage and multifunctionality). Read on to see how it turned out.
---
HB: What was the scope of the project?
More Beautiful House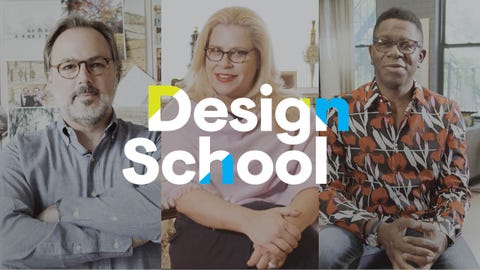 RB: Our renovation included gutting a complete side of our home: the breakfast room, kitchen, powder room, laundry room, and mudroom entrance. We removed the wall between the breakfast area and the kitchen and added a cased opening to the existing kitchen "office" area to create a bar passage between the new larger kitchen and our existing den. We also widened the rear entry hallway by 18 inches to accommodate more storage and space for our family.
HB: What was the main focus of the new design?
RB: On the surface, there had been some updates with redone cabinets and painting in the areas we were renovating. However, the interior of all our cabinets was original. There were no adjustable shelves, only 12 inches of space between the counter and the upper cabinets (only a mini coffee maker would fit!), The back entrance was cramped and I really wanted to open up the kitchen in the existing breakfast room to create a more open and relaxed dining area. Prior to the renovation, we weren't using the breakfast room or our kitchen office, so I wanted to make those spaces more useful. I wanted a classic white kitchen and for the remodel to make it look quirky in the house, but fun and full of color!
You can barely tell where the new meets the old, and that's exactly what we wanted.
HB: How did you get there?
RB: I selected timeless finishes (brass and chrome), incorporated small doses of black accents (range, tiled back of island), and selected neutral stone countertops. We kept the molding and wainscoting designs in keeping with the existing finishes of the house and were fortunate enough to match the hardwood flooring to the original flooring on the first floor. The floor is quite unique and keeping the floor consistent was my husband's only request during this whole project – we needed to match the original red oak and white oak bevelled flooring, laid in different widths. This is what we managed to do and it went very well! You can barely tell where the new meets the old.
I love color and it shows in all my projects. And pink is my absolute favorite color, even in a house surrounded by men (my husband, three boys and our male dog!). However, a little pink can do a lot in our home. I incorporated it into my long-time favorite textiles, Manuel Canovas' "Voyage en Chine" fabric and Pierre Frey's "Arty" wallpaper, and they guided the entire color palette of our project.
HB: Did you encounter any setbacks, challenges or memorable surprises during the project?
RB: The biggest challenge was living in the house during the renovation in times of Covid and learning at home with three children. Another was the time the renovation took due to delays. As a designer, I knew to select/order items as soon as possible to avoid delays, but some were unavoidable. When the kitchen was stripped down to the studs and I walked in, I knew immediately that we necessary a larger window for space. Instead of waiting over 6 weeks for a new window, we added sidelights to the original window and gained about 20 inches of light. I think it seems like it's always been that way, especially once I asked the builders to add trim to the side windows to mimic the existing lintels of the original window.
I like to mix the old with the new. The juxtaposition of fun, fresh and colorful textiles with classic ceramics and antique pieces was the inspiration for the entire space.
HB: Where did most of the budget go?
RB: A large part of our budget went to cabinets, counters and appliances. Our cabinets were custom made by a trusted craftsman, Jack Massey of Jack's Cabinet Shop, who I have worked with for years. We designed every drawer, cabinet bay and insert together to make the most of our new space.
Although marble is my favorite stone material, it wouldn't be the best choice for our family and our three little boys. Marble engraves and is very porous and I knew stains would be inevitable. Instead, we chose a galactic white quartzite for the countertop. Quartzite is durable, hard and has beautiful veins, like marble. It is an expensive material, but I am extremely happy that we have chosen for all areas of this project.
All of our appliance selections are plug-and-play and fully integrated, so they fit seamlessly into cabinetry. Our refrigerator is from SubZero and our dishwasher is from Miele. I had my heart set on a LaCornue cooker because they are true works of art and I knew it would be a perfect focal point for our otherwise neutral kitchen. The LaCornue series has a double oven, so I loved not having to sacrifice that existing item with this selection.
HB: How did you save money?
RB: In addition to the window solution, we used remnants of the original parquet as the rear part of our drop zone in the rear entrance to the changing room. We kept the same overall footprint of our renovation, removing only one wall and pushing the width of the entry hallway.
HB: What are some of the most special design elements of the space?
RB: I added a bold use of color in our passbar area. It's a small space, connecting our kitchen and our living room, and it's one of my favorite elements. One side is standard counter depth, but the other side is narrow and was previously considered unusable. My husband is in the beer business and I saw that this narrow space would be perfect for housing his supplies, mugs and glasses. I didn't want to sacrifice our large pantry, so I kept the footprint of this area roughly the same, but added a cased opening to distinguish it from the kitchen. My husband gave me carte blanche here and I didn't hold back with hot pink cabinets and colorful wallpaper. We added an under-counter refrigerator, especially for my husband's unique assortment of beers, and glass cabinets on top to display our special collection of vintage glasses, tankards, and cookie jars. I balanced the pops of color and pattern with classic white cabinetry, warm wood tones, and shades of blue, black, and white in the other areas of our renovation.
Hadley Keller is Beautiful housedigital director of. She oversees all digital content for the brand and works on the print magazine. She covered design, interiors and culture for 10 years in New York. She served as Associate Market Editor, Design Journalist, and Managing Editor for Architectural Summary and AD PRO before joining Beautiful house. Hadley is an ardent maximalist and a vocal opponent of the open floor plan.