renovation by PALMA
with its latest project "san ignacio", PALMA presents the renovation and addition of a house located in the mexican state of nayarit. the client's request was to renovate the existing building which was in very poor condition, and build two new volumes in its place – one which could function as a flexible space for photo shoots and different creative uses, and a second which could offer an exterior living space that would create a direct connection with the swimming pool.
images © luis young | @_luisyoung
the concrete extension 'san ignacio'
with the design of its san ignacio proposal, PALMA (see more here) undertook two main actions: the modification of the existing house and the configuration of the central courtyard with the construction of the two new volumes.
the existing volume was extended to the edge of the land, resulting in the reorganization of bedrooms and bathrooms while a private patio was added to the master bedroom. the team removed the tin roof which generated high temperatures and leaks during the rainy season and replaced it with a concrete slab which offers greater height to the rooms and the possibility of including a series of skylights which allow more light to enter. the intervention is materially perceptible with the new cast slabs in exposed concrete.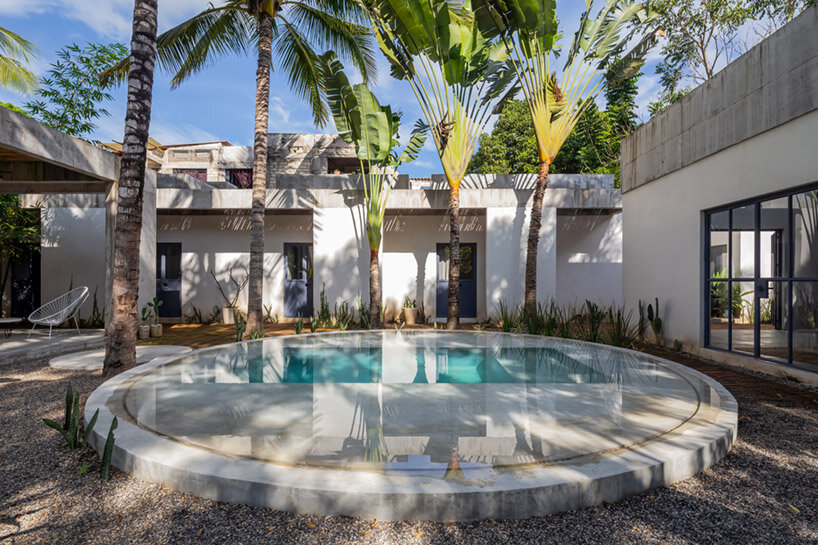 harmonize architecture with palm trees
The second action of PALMA in its renovation of san ignacio concerned the configuration of the central space, introducing a swimming pool in the center of the plot surrounded on two sides by the volumes of the house. to provide privacy between the pool and the bedrooms, a series of narrow walls have been built to harmonize with the site's tall palm trees. these walls further define a portico with a bamboo roof that floods the white walls with shadow.
the newly built volumes, one closed and the other open, serve as flexible spaces for different activities in the daily use of the house and maintain a constant relationship with the circular swimming pool placed in the middle of the two. finally, a landscaping project has been put in place that weaves together the existing house and the extension, mainly through the use of a buried brick paving that seems to gradually disappear as visitors pass from the house to the garden.