Yohana Belinda (The Jakarta Post)
Jakarta ●
Mon 7 November 2022

2022-11-07
11:26
1
c5899ceba9df082b5eba6392e51279ef
1
Community
disabled-community,Transportation,wheelchair,wheelchair-accessible,disability,disability-equality
Free

Non-inclusive public transport excludes Indonesians with disabilities, forcing them to isolate themselves from social life and professional opportunities.
Hari Kurniawan, 44, was born with a congenital disability that prevented him from walking. The Jakarta native frequently uses public transport, but his disability makes life in Indonesia a constant challenge. Cak Wawa, as he calls himself, often finds ojek (motorcycle taxi) refusing to pick him up.
"They don't give me any clear reason why they don't want [to take] me as a passenger. Although I told them I could pay, they ping ponged me with other drivers.
Cak Wawa added that he experienced this not only in Jakarta but also in other cities including Malang and East Java. Suffice to say that getting around has become an impossible task.
Wheelchair accessible vehicles (WAV) are still relatively hard to find in Indonesia. Many wheelchair users still have to rely on informal modes of transportation, such as small vehicles that have been modified to meet their needs. Individuals mainly own and operate these modified, sometimes rented, taxis.
Dreams: Triyono, founder of Difa Bike, a disability-friendly 'ojek' (motorbike taxi), hopes to play a role in creating inclusive transportation for the Yogyakarta community. (Courtesy of Triyono) (Courtesy of Triyono/.)
Triyono, the founder of Difa Bike, a Yogyakarta-based motorcycle taxi service for people with disabilities, says that despite their ojek having been modified into a wheelchair-friendly three-wheeled vehicle, they are unable to meet demand in some areas.
"Even if you're at the airport, it's hard to find a WAV if you're in a wheelchair," Triyono said.
"So our role, as one of the informal modes of transportation, is not just to provide accessible transportation, but also to educate and raise awareness that communities of people with disabilities also deserve the right to 'have accessible transportation.
Rodhi Mahfur, 31, a painter, says most WAVs available are too expensive for poor Indonesians.
"They are mainly available at the airport or in hospitals. when you call [the WAV taxis] at your house, they will charge you more," Rodhi said.
Struggling to find access
The National Team for Accelerated Poverty Reduction (TNP2K) reports that as of March 2019, more than 9% (23.3 million) of Indonesia's population were disabled. Monash University research conducted in 2017 found that most people with disabilities in Indonesia did not use assistive devices such as hearing aids and walking aids. For example, according to the data, 80% of those who report visual impairment do not have glasses and 28% of those who need a cane do not.
As for wheelchair users, the public transport available does not meet their needs. According to data published by Monash University38% of the disabled community in Indonesia do not have access to public transport, 48% choose not to use available public transport, and only 14% use general public transport.
Faisal Rusdi, 47, a painter and member of the Association of Mouth and Foot Painters (AMFPA), said his mobility to get into taxis and cars is often too difficult.
"Someone has to lift me from the wheelchair to the car seat and vice versa. Ideally, if adapted taxis are available for the disabled community, wheelchair users do not have to travel and can stay [seated] in their wheelchair," Faisal said.
Due to lack of access to suitable means of transport, it happens that Faisal and his wife, also in a wheelchair, opt for an electric wheelchair to get to their destination.
"Sometimes we use the electric wheelchair on the road, as long as the destination is near. But it's perilous because we're in the outside lane of the road," Faisal continued.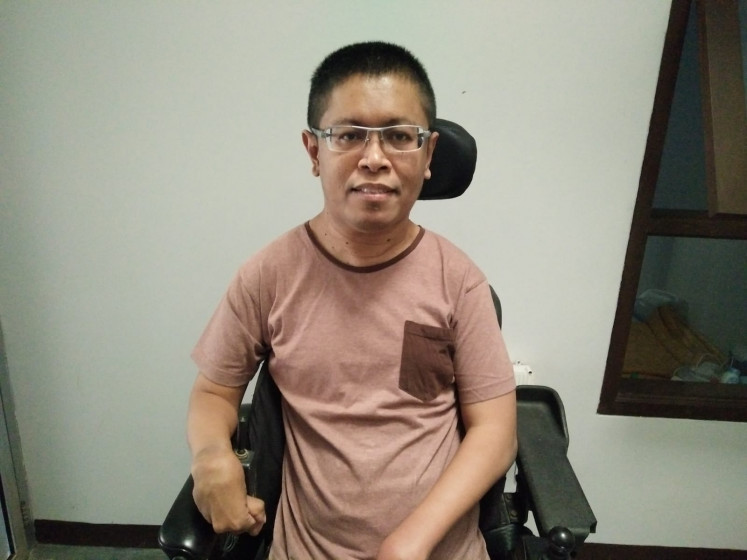 Call for change: Faisal Rusdi, a wheelchair user in Bandung, describes that not all WAVs in Indonesia are designed to be compatible with all types of wheelchairs. (Courtesy of Faisal Rusdi) (Courtesy of Faisal Rusdi/.)
Deliani Siregar, from the Institute for Transportation and Development Policy, said the debate over inclusive public transport in Indonesia has gone unresolved in recent years – she uses the parable of "which comes first, the chicken or the 'egg".
"At this time, the transportation available has not been able to meet the needs of the disability community, especially for those who use wheelchairs," Deliani said.
"Because the challenge we are discussing now is not just about accessibility but also about transport design, which is equally important," she continued.
Deliani also explained that if this issue is not resolved, it could eventually affect the activities and mental state of people with disabilities.
Budi Ratmoyo, 48, volunteer tailor as ojek driver in Sidoarjo, said a 23-year-old client with cerebral palsy had not been out of the house for 16 years after his mother could no longer carry him on her motorbike.
"It's a challenge because he's the only person he could count on. Every day I meet different people who face challenges. We need to open our eyes and our hearts to people who cannot access the world because they have no transportation options," Budi said.
Deliani further adds that Indonesia's socio-cultural ableism is another challenge in building accessible transport.
"For example, we suggest that bus stops shouldn't be too tight, but the comments we often received were 'Are there even people with high mobility disabilities?' "said Deliani.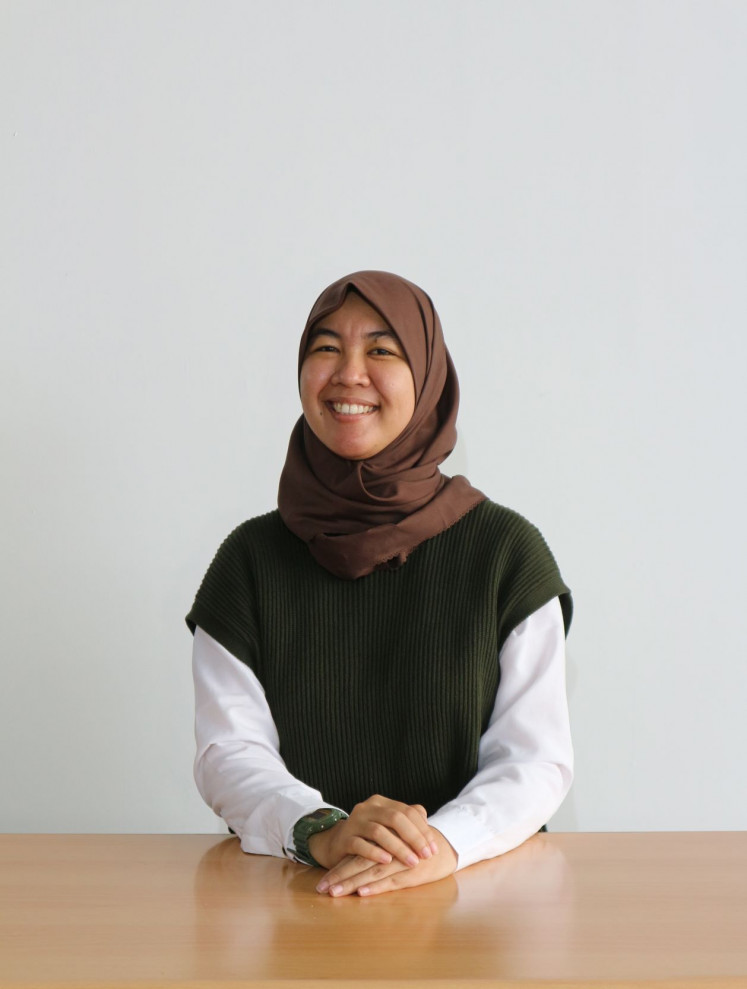 Their voice: Deliani Siregar explains that accessible design for the disability community is key, but in reality it is often overlooked. (Courtesy of Deliani Siregar) (Courtesy of Deliani Siregar/.)
Support needed
Creating transport adapted for people with disabilities requires a collective effort. Triyono explained that taxis are always preferable to modified motorbikes in big cities like Jakarta, with higher mobility.
"Certainly the modified motorbike helps. We can't deny it even though it's not 100% practical. Can you imagine if someone had to go to the hospital for a checkup with a vehicle at three wheels?" Triyono added.
However, when it comes to delivering WAV in taxi form, Triyono says there are financial challenges. A wheelchair accessible car costs twice the price of a modified motorbike, around Rp 7 million (USD 458).
Richie Bestianto, managing director of Motion Aid, a Jakarta-based WAV provider, says that modifying a WAV with a capacity of 250 kilograms requires 19.5 million rupees.
For Triyono, the modification cost was not able to meet the demand of other larger areas of Yogyakarta and Jakarta. Especially during the pandemic, Triyono found it difficult to run his business mainly due to the drop in the number of tourists coming to Yogyakarta.
"We [Difa Bike] Previously, we had 15 wheelchair accessible cars provided by individuals, but we only had one during the pandemic. Suppliers asked to get their car back," Triyono said.
So far, they haven't lost hope.
Deliani further added that the desire to create accessible transportation for the disability community is crucial.
"The transport operator should remember that if a space is deemed accessible to the disabled community, it will be more accessible to non-disabled people," Deliani concluded.