[Opinion column written by MP Dennis Lister III]
Ten electric buses arrived on Wednesday, marking an exciting new era for public transport in Bermuda. Environmentally friendly and designed to better navigate the narrow roads of the islands, the new bus fleet is another step forward in ensuring that our residents have safe and reliable public transport.
In addition, the lower floors and the kneeling suspension facilitate access for people with reduced mobility. Improved air quality means bus operators will work in conditions that align with better health. The public will be pleased to know that the maintenance cost of new buses is 50% lower than that of a diesel fleet, which translates into a greater tax advantage.
As part of the government's economic stimulus plan, temporary charging stations at Dockyard, St. George and Fort Langton bus depots are being built to support the first 30 buses until the permanent charging infrastructure is completed. These charging stations will be powered from existing BELCO circuits and completed in March 2022.
Now that the buses are here, local staff will receive extensive training under the guidance of an engineer from Golden Dragon Bus Company, who will be based in Bermuda for three months to support the team. Additionally, Department technicians will participate in online EV training through the Institute for Motoring Industry, UK and locally through Bermuda College.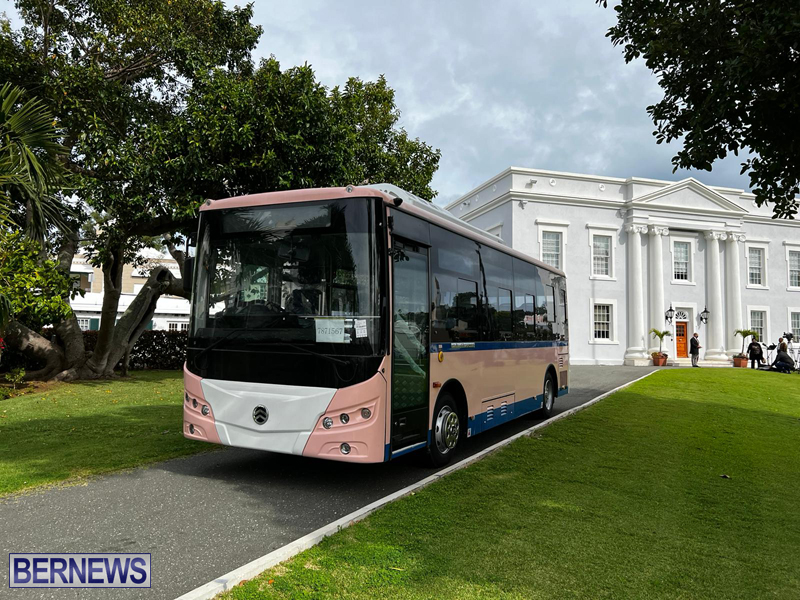 In addition to the new electric buses, the Department of Public Transportation (DPT) has recruited additional bus operators to ensure we have the human resources necessary to provide reliable and consistent public bus service to our community.
The transition of the entire bus fleet from diesel to electric is expected to take more than ten years. The permanent charging infrastructure will accommodate the entire fleet. There will be a total of 30 charging stations serving 60 bus bays, a 450 kilovolt rooftop solar photovoltaic array and a battery energy storage system at the Fort Langton bus depot.
Without a doubt, Bermuda leads the region in providing cleaner, quieter and more cost effective public transportation for our residents and visitors.
And that's just the beginning!
We are grateful to our improvement partners, especially the BIU, PTB management and bus operators who have helped us pave the way to a more sustainable future.
Bermuda is thriving beyond the pandemic, and we invite you to take a ride with us in our new eco-friendly electric buses as we head into a brighter future!
-Dennis Lister III

20 Most Recent Opinion Columns

February 16: Column: Increasing the Availability of Affordable Housing
15 Feb : Column: Planning a retirement for someone
February 14: Column: Heart Health Awareness Month
February 10: Column: Protection of victims of domestic violence
February 05: Column: BPS, gang violence, silence and more
February 02: Chronicle: resignations, hearings, good sides
01 Feb : Column: Birth rate, care, education, etc.
Jan 31: Column: Should bid to bring back the America's Cup
January 28: Column: Tyrrell on Covid, rules, balance, etc.
Jan 27: Column: Raising Awareness About Teen Dating Abuse
Jan 26: Column: Eliminating the Toxicity of Speech
January 24: Column: Smith on education, Covid testing, more
Jan 24: Chronicle: What has the government done to make life better?
Jan. 23: Column: human rights, equality law, etc.
Jan 20: Column: OBA wants "it goes both ways on Covid"
January 19: Chronicle: "Remembering and revering our elders"
Jan 14: Column: 5 Financial Mistakes Women Make
January 12: Column: Celebrating Dr. Weldon's Contributions
January 11: Column: Leadership, responsibility and more
January 07: Kim Swan Chronicle: Fighting Life's Inner Battles

Opinion columns reflect the views of the author, not those of Bernews Ltd. To submit an op-ed column/letter to the editor, please email [email protected] Bernews welcomes submissions, and while there are no length restrictions, all columns must be signed with the author's real name.
–

Learn more about
Category: All news